Please help us keep Acupuncture safe for all Iowans!
Please consider donating to our legal fund by clicking on the options below or mailing a check to the following address:
Attn: Ashley Mayrose
IAOMA
8230 Hickman Rd Suite B
Clive, IA 50325
Thank you!
We're almost there!
Our official Brief has been sent to the Court and our Hearing has been set for Friday July 15th! For more information read the information posted below or contact us at IAOMAonline@gmail.com.
---
Posted January 2016:
We are saddened to report that our Petition for a Declaratory Order from the Iowa Physical Therapy Licensure Board to find Dry Needling/Intramuscular Stimulation as NOT within the Scope of Practice of Physical Therapy was answered contrary to our Petition's suggestion.
On Friday December 11, 2015 the Iowa Physical and Occupational Therapy Licensure Board ruled that Dry Needling is within the scope of practice of PTs in the state of Iowa.
They made their decision in front of nearly ten Iowa licensed acupuncturists and after hearing more than 400 people write to them expressing their views against PTs with minimal training performing Dry Needling/Acupuncture. The public inquiry period, which was open for 45 days from September to October, saw the following response from members of the public and health professionals. The following chart is a graphic representation of the staggering amount of written responses the Board received: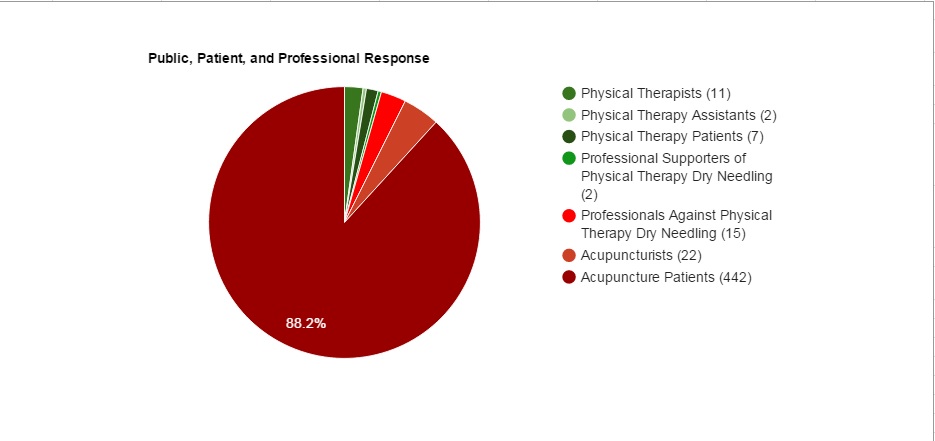 As the above chart shows, the public and health professionals of Iowa are overwhelmingly on the side of the licensed acupuncturists in this debate. We also collected over 1000 signatures on Change.org supporting our position.
Despite this, the Iowa Board chose to agree with the Physical Therapy Association's (both National and State groups) assertion that since there have not been any complaints filed against PTs using Dry Needling in Iowa, there is no cause for concern. They also stated that the definition of Physical Therapy as found in Iowa's code left room for a therapy like Dry Needling to be added, a statement the Iowa Association of Oriental Medicine and Acupuncture finds to be completely erroneous.
We will do our best to keep you informed, and though this recent setback was a great disappointment to acupuncturists across the state (and the nation), we continue to believe in our Position on this topic and will always support the rights of licensed acupuncturists and the safety of Iowans.
---
For videos from our 11 December 2015 Meeting with the Iowa Board of Physical and Occupational Therapy, click here.
---
Posted 29, September 2015:
On 11 September 2015, a handful of Iowa Licensed Acupuncturists and their allies attended the Iowa Board of Physical and Occupational Therapy's meeting. The agenda allowed for time to discuss whether physical therapists in the state of Iowa are allowed per their licensure rules and regulations to perform a technique they refer to as "Dry Needling (DN)" (or Intramuscular Manual Therapy–IMT, Trigger Point Dry Needling–TDN, etc.). This treatment consists of a health professional inserting a solid, filiform needle (an acupuncture needle) into a patient's "trigger point" in the hopes of relieving tension or pain. Physical therapists utilizing this technique are doing so on as little as 25 total hours of training in this technique.
It is our contention that the use of acupuncture needles constitutes the act of acupuncture, and thus acupuncture needles should only be used by licensed acupuncturists. Furthermore, the "trigger points" used in dry needling have been part of acupuncture studies for many centuries, usually called "ashi" or tender points.
You can find our Petition on change.org. Please sign and leave comments!
Thank you!